As part of the Unified Community Platform project, this wiki and 38 others will be migrated to the new platform, with migrations beginning September 23rd at 7am CDT. Minimal changes are expected as part of this migration. Read more here.
Midgard Gem
Midgard Gem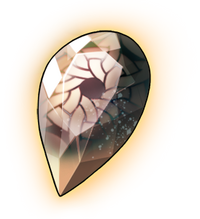 Description
Used in Mjölnir's Strike to build and improve your structures for Midgard's Shield.
Midgard Gems can be obtained as rewards from Mjölnir's Strike.
Midgard Gems are used to create and enhance mechanisms in Mjölnir's Strike.
| Language | Name |
| --- | --- |
| Japanese | 秘宝玉 |
| German | Midgard-Juwel |
| Spanish (Europe) | Gemas de Midgard |
| Spanish (Latin America) | Gemas de Midgard |
| French | Gemmes de Midgard |
| Italian | Gemme di Midgard |
| Traditional Chinese (Taiwan) | 祕寶玉 |
| Portuguese | Pedras de Midgard |