As part of the Unified Community Platform project, this wiki and 38 others will be migrated to the new platform in the next few weeks. Minimal changes are expected as part of this migration. Read more here.
Sacred Coin
See Also: A chart which shows the total distribution of Sacred Coins.
Sacred Coin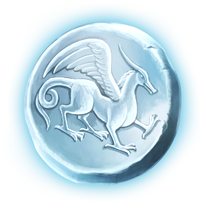 Description
A valuable ceremonial coin for the Sacred Seal Forge used in antiquity.
Sacred Coins can be earned as a reward in Arena, Arena Assault, Tempest Trials, gaining tiers in Grand Conquests, competing in Voting Gauntlet rounds, or as a reward for certain quests.
Sacred Coins are used to create/enhance Sacred Seals in the Sacred Seal Forge.
| Language | Name |
| --- | --- |
| Japanese | 聖貨 |
| German | Heilige Münzen |
| Spanish (Europe) | Monedas Sacras |
| Spanish (Latin America) | Sellos Sacros |
| French | Pièces sacrées |
| Italian | Sacri Oboli |
| Traditional Chinese (Taiwan) | 聖幣 |
| Portuguese | Moeda Sagrada |