As part of the Unified Community Platform project, this wiki and 38 others will be migrated to the new platform, with migrations beginning September 23rd at 7am CDT. Minimal changes are expected as part of this migration. Read more here.
Verdant Crystal
Verdant Crystal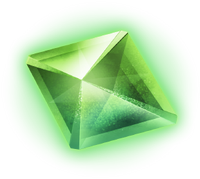 Description
Used for leveling up. Can be used on green-type allies level 20 and higher.
They are available from the first daily play in the Training Tower on Thursdays. They can also be obtained by completing various Quests and Missions.
Crystals needed to level up
[
edit
|
edit source
]
| Level | 21 | 22 | 23 | 24 | 25 | 26 | 27 | 28 | 29 | 30 | 31 | 32 | 33 | 34 | 35 | 36 | 37 | 38 | 39 | 40 |
| --- | --- | --- | --- | --- | --- | --- | --- | --- | --- | --- | --- | --- | --- | --- | --- | --- | --- | --- | --- | --- |
| 20 | 611 | 1283 | 2023 | 2837 | 3732 | 4716 | 5799 | 6990 | 8300 | 9742 | 11328 | 13072 | 14991 | 17102 | 19424 | 21978 | 24788 | 27879 | 31279 | 35019 |
| 21 | — | 672 | 1412 | 2226 | 3121 | 4105 | 5188 | 6379 | 7689 | 9131 | 10717 | 12461 | 14380 | 16491 | 18813 | 21367 | 24177 | 27268 | 30668 | 34408 |
| 22 | — | — | 740 | 1554 | 2449 | 3433 | 4516 | 5707 | 7017 | 8459 | 10045 | 11789 | 13708 | 15819 | 18141 | 20695 | 23505 | 26596 | 29996 | 33736 |
| 23 | — | — | — | 814 | 1709 | 2693 | 3776 | 4967 | 6277 | 7719 | 9305 | 11049 | 12968 | 15079 | 17401 | 19955 | 22765 | 25856 | 29256 | 32996 |
| 24 | — | — | — | — | 895 | 1879 | 2962 | 4153 | 5463 | 6905 | 8491 | 10235 | 12154 | 14265 | 16587 | 19141 | 21951 | 25042 | 28442 | 32182 |
| 25 | — | — | — | — | — | 984 | 1978 | 3258 | 4568 | 6010 | 7596 | 9340 | 11259 | 13370 | 15692 | 18246 | 21056 | 24147 | 27547 | 31287 |
| 26 | — | — | — | — | — | — | 1083 | 2274 | 3584 | 5026 | 6612 | 8356 | 10275 | 12386 | 14708 | 17262 | 20072 | 23163 | 26563 | 30303 |
| 27 | — | — | — | — | — | — | — | 1191 | 2501 | 3943 | 5529 | 7273 | 9192 | 11303 | 13625 | 16179 | 18989 | 22080 | 25480 | 29220 |
| 28 | — | — | — | — | — | — | — | — | 1310 | 2752 | 4338 | 6082 | 8001 | 10112 | 12434 | 14988 | 17798 | 20889 | 24289 | 28029 |
| 29 | — | — | — | — | — | — | — | — | — | 1442 | 3028 | 4772 | 6691 | 8802 | 11124 | 13678 | 16488 | 19579 | 22979 | 26719 |
| 30 | — | — | — | — | — | — | — | — | — | — | 1586 | 3330 | 5249 | 7360 | 9682 | 12236 | 15046 | 18137 | 21537 | 25277 |
| 31 | — | — | — | — | — | — | — | — | — | — | — | 1744 | 3663 | 5774 | 8096 | 10650 | 13460 | 16551 | 19951 | 23691 |
| 32 | — | — | — | — | — | — | — | — | — | — | — | — | 1919 | 4030 | 6352 | 8906 | 11716 | 14807 | 18207 | 21947 |
| 33 | — | — | — | — | — | — | — | — | — | — | — | — | — | 2111 | 4433 | 6987 | 9797 | 12888 | 16288 | 20028 |
| 34 | — | — | — | — | — | — | — | — | — | — | — | — | — | — | 2322 | 4876 | 7686 | 10777 | 14177 | 17917 |
| 35 | — | — | — | — | — | — | — | — | — | — | — | — | — | — | — | 2554 | 5364 | 8455 | 11855 | 15595 |
| 36 | — | — | — | — | — | — | — | — | — | — | — | — | — | — | — | — | 2810 | 5901 | 9301 | 13041 |
| 37 | — | — | — | — | — | — | — | — | — | — | — | — | — | — | — | — | — | 3091 | 6491 | 10231 |
| 38 | — | — | — | — | — | — | — | — | — | — | — | — | — | — | — | — | — | — | 3400 | 7140 |
| 39 | — | — | — | — | — | — | — | — | — | — | — | — | — | — | — | — | — | — | — | 3740 |
| Language | Name |
| --- | --- |
| Japanese | 碧光の大結晶 |
| German | Viridiankristall |
| Spanish (Europe) | Gema glauca |
| Spanish (Latin America) | Gema jade |
| French | Cristal verdoyant |
| Italian | Cristallo smeraldo |
| Traditional Chinese (Taiwan) | 碧光大結晶 |
| Portuguese | Cristal esmeralda |