What's in Store for the 1.4.0 Update (Notification)

Thank you for playing Fire Emblem Heroes.
To celebrate the ver. 1.4.0 update, from June 8, 2017 at 7:00 AM UTC to June 22, 2017 at 6:59 AM UTC, you can get 2 Orbs
every day!
Here's an update from the Fire Emblem Heroes development team about the new additions for ver. 1.4.0.

■ Tempest Trials
Get ready for a new mode: Tempest Trials, starting June 8, 2017 at 7:00 AM UTC.
This special event will introduce a series of maps you must fight your way through from beginning to end, using a limited number of teams of Heroes.
If a Hero falls in battle, they can't be redeployed until the end of the challenge, so be careful.
The last map of the series is a boss stage. Points will be awarded depending on how well you do in facing the challenge. Even if all of your allies are defeated, however, you can still receive points.
Collect points and earn rewards!

■ More Teams
The number of teams of allies you can create has increased to eight, and you can now name them.
Also, you can now choose a Defensive Team for the Arena.
Keep in mind that you need to battle at least once after setting your Defensive Team in order for the change to be reflected.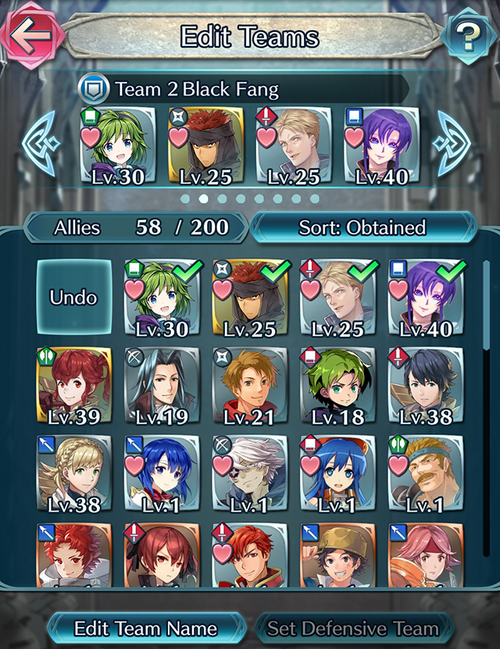 ■ Quests Level Up
Here come some improvements to the quest system:
1. You can now claim all rewards for completed quests at the same time.
2. If you've completed all of the quests in a list, the ◯ at the top will change color, and that list will automatically be moved to the right side of the list in the Quests & Missions menu.
3. The quest notifications after battle will use different colors to denote progress and completion.

■ Merge Allies: More Info
Simply tap a Hero's level at the top of the status screen to see the number of times Merge Ally has been performed on that Hero.

■ New Options in Settings
In Settings, Double Tap to Wait and Auto-Battle Text options have been added.
If Double Tap to Wait is set to Off, double-tapping an ally will not make them wait. Select End Turn without performing an action to move to the next turn.
If Auto-Battle Text is set to Auto-Advance, text in battles (including level ups) will advance automatically.

■ Victory Conditions
For maps that require certain conditions to be met for victory, those conditions will now be displayed at the beginning of battle.

■ That's Not All
Load times for the Arena have been reduced, the amount of data transmitted during play is now lower, and other small improvements have also been made.

That's everything added for ver. 1.4.0!
We hope you continue to enjoy
Fire Emblem Heroes
.
Posted:
---